About Us
Brazen Canadian is a division of Hitec Screen Printing Inc.
We are based in the City of Courtenay B.C., in the Comox Valley, on Vancouver Island, Canada, specializing in screen printing, custom embroidery, digital printing, souvenir design, sign, design and imprinting for corporate, team, and promotional product buyers.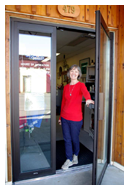 Friendly and knowledgeable, our staff guide you through the process of choosing a product, developing your logo or design concept, presenting your order or addressing special requests. From design to finished goods staff at Hitec-Brazen will help you make a statement of style.
Able to draw on our 25+ years experience in the graphic design and textile industry, developing logo/brand recognition for your special needs is our strength. Know that you will be noticed - on the summer slo-pitch field or in the corporate boardroom.
Browse our on-line catalogues for some great ideas. Then email us for more details or a custom quote.